Categories:
Other Brands
Being able to express a thing or two about your personality without even having to say a word is possible thanks to fashion. Clothes, shoes, and accessories are the perfect tools to create exactly the image you want to portray while you are out in the world. Streetwear is probably the fashion segment you focus mostly on, considering the outfits that fall within this range are the ones you wear most of the time. Well, although you don't have to be as selective or attentive as you would when dressing up for a formal event, to keep your street style in check, there are some things that you need to remember. If you want to step up your fashion game and dress to impress every time you walk out the door, you might find the following tips useful:
DARE TO STAND OUT – GO FOR ELECTRIC COLORS
Black and with combos might seem great when you are in a hurry and don't have the time to come up with complex assembly's, and while they might make a safe fashion choice, your looks will not be as eye-catching as you might want. Try to stay away from neutral tones, and switch to eclectic colors instead. A pair of yellow sneakers instead of the plain white ones you are used to wearing or an electric blue leather jacket on top of a soft pink dress will make far more impressive attires. If you want to stand out, and you want your looks to have that "wow" effect to them, wearing a strong color is a sure bet. If you take a look at what fashion influencers and magazines are promoting these days, you will see for yourself that any street look worth your attention has at least one colorful element incorporated. And don't worry, in 2018 you no longer have to follow some strict color coordination rules, so matching blue with red, or yellow with orange can work perfectly great.
CLASSICS NEVER GO OUT OF STYLE
While the trends have changed along the years, when it comes to streetwear, there are a few classics that are as trendy today as they were even a decade ago. As long as you have a few classic street style elements in your wardrobe, you will always be able to dress in a stylish way even when you need to get ready in a couple of minutes. One example is a band t-shirt. Classic rock tees remain an authentic, fresh and fashion-magazine-worthy option for a casual outfit. A t-shirt of this kind, combined with a pair of skinny black jeans, or leather pants, some ankle boots, and an oversized denim jacket will create the type of outfit that will give you that relaxed, yet fashionable vibes. Just like you can never go wrong with a little black dress for a cocktail party, you can't make a fashion mistake if you wear a band tee – they remain a classic.
PAY ATTENTION TO FITTING
This year oversized clothes are trending, so your outfits will not only be stylish, but comfortable as well. However, that doesn't mean you shouldn't pay attention to the fit of each elementand make sure the size is an appropriate one for you. When you are trying out clothes, make sure to check if the said element fits you the way you should. While a dress might have an oversized design, it doesn't mean it should look baggy on you – this is one of the mistakes many women tend to make, so look twice in the mirror before going out, to be certain you aren't wearing an unflattering, unfitting size,
IT'S ALL ABOUT THE SHOES
If you know how to add the right pair of shoes, you can shift to another aesthetic instantly. A pair of jeans with a casual blouse, a scarf and a pair of shades can be the perfect choice for a day of shopping if you add some sport shoes to it, or a pair of boots, and will turn in a suitable option for a Sunday brunch with the girls if you wear a pair of high-heel sandals. The shoes are the elements of a wardrobe that you should spend the most money on because they can truly make a difference in your overall look, whether you are wearing Grateful Dead tees, skater dresses or cargo pants. A simple change of shoes can make your outfit seem an entirely different one, so use this trick to your advantage.
LESS ISN'T ALWAYS MORE
Yes, less might be more when it comes to creating a cocktail outfit, but regarding street style looks, this saying might not apply. For your outfit to be impeccable, adding more elements to it might be necessary. Accessories can either make or break your overall assembly. If you choose your elements carefully, an over-accessorized outfit can look far more stylish and up-to-date, than one that consists of only two clothing items and a pair of shoes. From scarves, leather bracelets and hats to belts, sunglasses and even broaches, you have plenty of options to choose from when it comes to giving an outfit those finishing touches it needs. Even a plain t-shirt and a pair of jeans can be turned into an attention-drawing outfit if you accessorize it accordingly.
Fashion has always been a complex topic, and while back in the day, there were plenty more rules you needed to think about, in 2018, things are more flexible than ever in this department. You no longer have to carefully match color tones, and you can combine virtually endless elements, as long as they seem to create a visually pleasant effect. However, to call yourself a street style star, it's essential to know a few things and to master the latest trends in streetwear. With these tips in mind, you will manage to pull off amazing daily looks like the fashion guru you wish to be, so keep them in mind.
comnum(0) tbcount(0) tbcount(77)
Categories:
Other Brands
The latest creation of Gucci is mixed with bold and feminine detailing. It's called the Gucci Rebelle Bag and it's released for the Fall Winter 2018 Collection.
More over, Gucci wanted to make sure that the people in fashion understands this concept. It's not Rebelle for Rebel. But it's the (Re)Belle Bag and Belle means beautiful while the 're' stands for 'about' in Latin. So basically this bag is called 'About the beauty'. Don't you just adore the name?
The Design
The Rebelle Bag is made with soft construction and framed design. The strong and feminine lines are beautiful for the urban-like moments. Knowing that it's crafted from natural grained leather will make it easier to maintain.
The washed and brushed finishing provides a somewhat worn yet refined appeal to the shape. The center clasp comes in two forms; the front features the double G, which is an archival reprisal of the house's signature emblem. The back portrays the feline head.
The Rebelle Bag is a multifunctional, which makes it a great investment. The Rebelle is a handle bag and a shoulder bag in one thanks to the detachable leather strap. If the bag is small (it comes in different sizes), then the accessory can also be worn as a clutch.
One more thing: the large size doesn't come with a shoulder strap.
The Interior
Zip the bag open, the interior is purposely made with one main compartment to maximize the space. There are also two zip pocket inside.
The Sizes And Prices
Gucci Small Rebelle Bag
Size: 11.5' x 7' x 3' (W x H x D) inches, with 21.5' inch drop shoulder strap
Prices: $1980 USD, €1490 EUR, £1330 GBP
Gucci Medium Rebelle Bag
Size: 15.5' x 10' x 4.5' (W x H x D) inches,
Prices: $2600 USD, €1980 EUR, £1790 GBP
Gucci Large Rebelle Bag
Size: 20' x 13' x 4.5' (W x H x D) inches and it doesn't come with a shoulder strap
Prices: $3200 USD, €2500 EUR, £2250 GBP
Where To Shop Gucci Rebelle Bag Bag?
1. Matches Fashion – The Gucci Rebelle Bag is available here…
2. MyTheresa – Shop here for the suede leather and more…
More Images And Colors
comnum(0) tbcount(0) tbcount(95)
Categories:
Other Brands
Rasa Valentino graces the pages of Mujer Hoy'sJune 23rd, 2018 issue. In front of the lens of Jonathan Segade (Lighthouse Photographers Agency), the brunette beauty poses in a wardrobe of all white looks. Stylist Sara Bascuñán selects an elegant mix of oversized shirts, lightweight knitwear as well as wide-leg trousers for Rasa to wear.
comnum(0) tbcount(0) tbcount(73)
Categories:
Other Brands
It's called 'chic' for a reason and it could be crowned as today's most luxurious bucket bag in high fashion. And of course, pretty comes with a price. So meet the Chanel Handle With Chic Bucket Bag from the Pre-Fall 2018 Collection.
We noticed that there are excessive handbags crafted with chevron quilting in this season. But that's all right, because chevron is as classic as the diamond quilting. We love that the Handle With Chic is a new style and the way in which it's constructed is also unique.
The Design
Just like the Dubai, the Handle With Chic Bag is adorned with sparkling gold hardware and no eye can escape that. The body is beautifully refined with chevron stitching, which radiates classiness.
There are two ways to handle this bag. We can either use the woven chain leather strap for should or cross body carry. The gold hardware embellished on the chain strap is shimmering together with the curved top handle. And noticed how Chanel played with black and gold and how this combination enhances the gold-effect. Btw, the handle is also partly designed with leather.
The CC logo is crafted on the top. It's also where the bag opens and closes. The way to open the bag is kind-of simple, it's foldable!
The Interior
So fold the top leather open to see the interior of the bag. Inside you will find one large main compartment for all your essentials.
More Images And Colors
comnum(0) tbcount(0) tbcount(73)
Categories:
Other Brands
The Kan I Bag is the newest iconic in high fashion. This bag was introduced in the late 2016, but it quickly became an instant hit. The purpose of this bag is to create a style between classic and contemporary. The kan I is eye-catching with details that no one can resist. And for the Fall Winter 2018 Collection, the house reworked the bag with standout embossed logo. So what do you think?
The Design
The Kan I Bag comes in different shapes, but the shoulder bag version is crafted in squared shape. It features the double pyramid stud closure with the house's logo printed below, which reads: 'Fendi Roma'.
But we can also call this a handle bag. Because the top comes with single leather handle for hand carry. And it's beautifully designed as well. The handle is connected to the bag via golden eyelets. And the beauty is enhanced by the multiple golden rings.
And of course, it's also made with a medium-sized chain strap for shoulder or cross body carry. The chains are thick and jewel-like, and it feels very feminine.
But what makes this Kan I Bag unique is the new embossed F logo on the flap. This double F print might be the next signature. The bag is also made from calf leather, which is solid and strong.
The Interior
The interior is made with suede lining. It comes with two compartments and a card slot.
The Prices And Sizes
Measuring 6' x 7.5' x 3.5' (H x W x D) inches, priced at $2290 USD, €1690 EUR, £1650 GBP.
Where To Shop The Fendi Kan I Logo Embossed Bag?
1. Luisa Via Roma – Shop via Luisa Via Roma because they have a lot of colors…
2. MyTheresa – Shop via MyTheresa to find a lot of styles…
3. Farfetch – Click here once to shop via boutiques around the globe…
4. SSENSE – There is one unique color available here…
More Images And Colors
comnum(0) tbcount(0) tbcount(73)
Categories:
Other Brands
Valery Kaufman travels to the beach for the July 2018 issue of ELLE Italy. In front of the lens of David Burton, the Russian model embraces a wardrobe full of stripe prints. From breezy skirts to lightweight knitwear and button-up shirts, Valery shines in each look. Stylist Carola Bianchi selects designs from the likes of Hermes, Sportmax and DSquared2.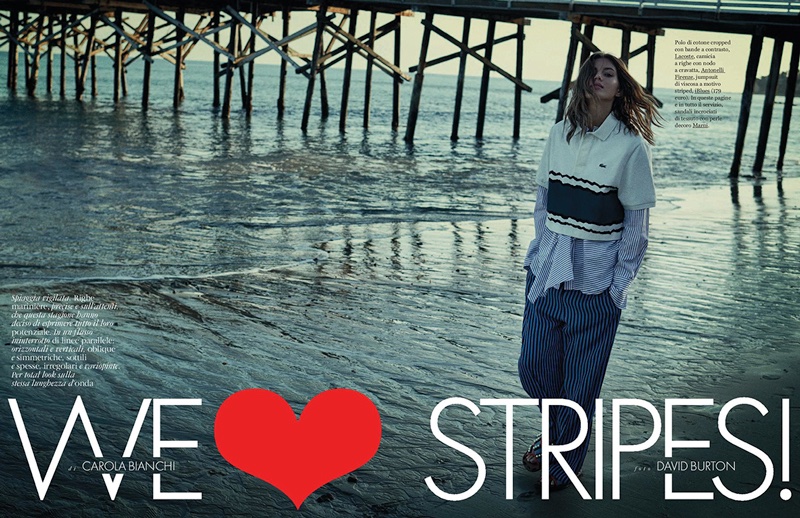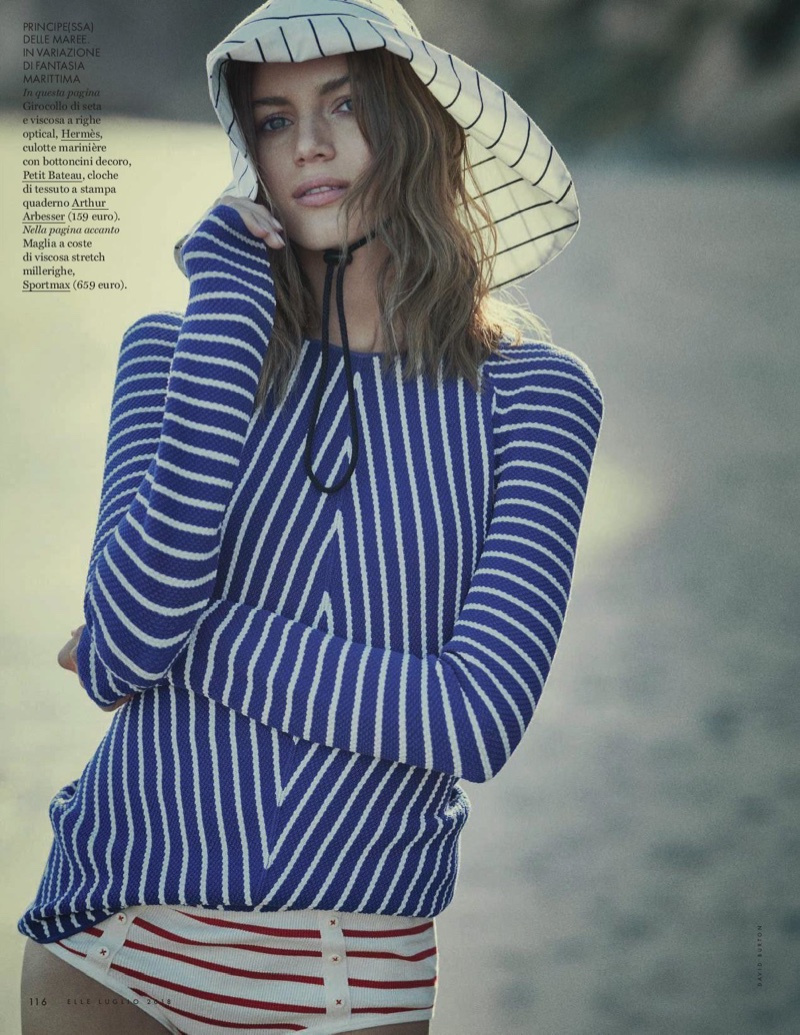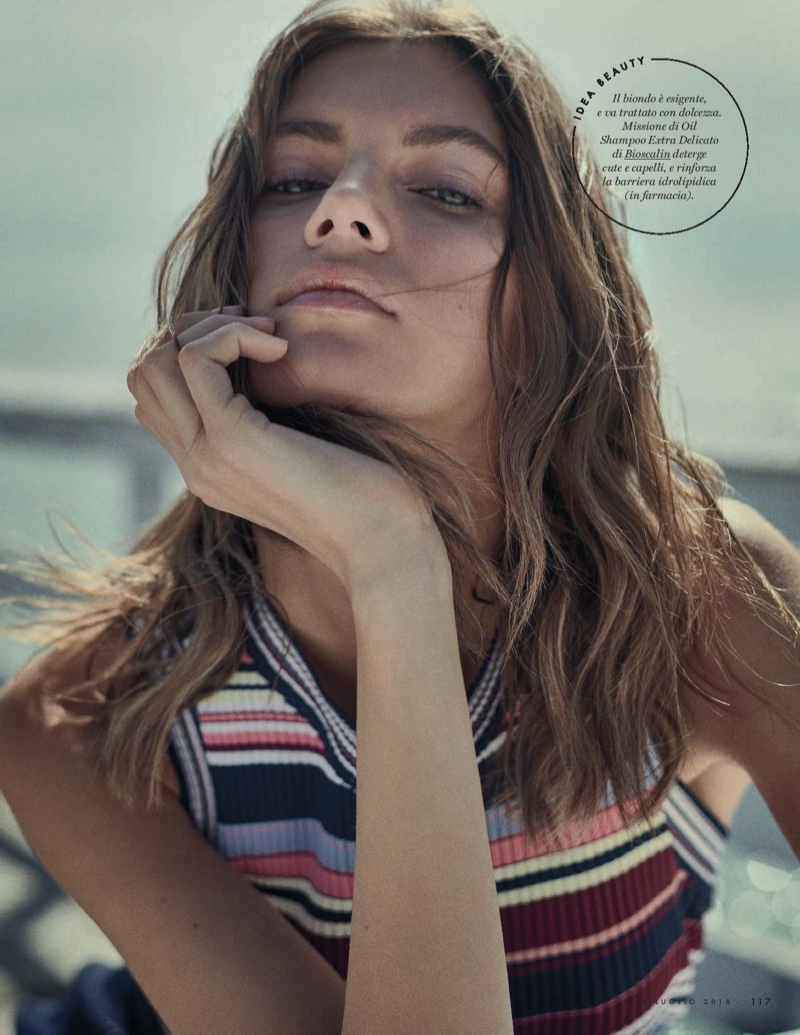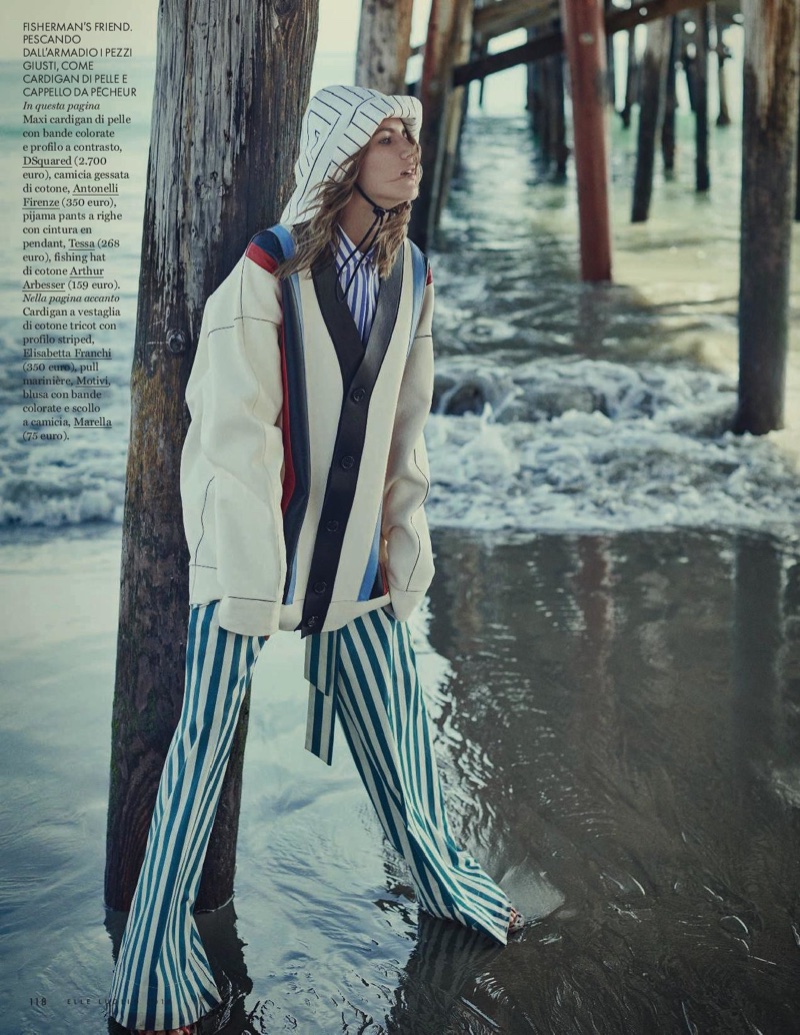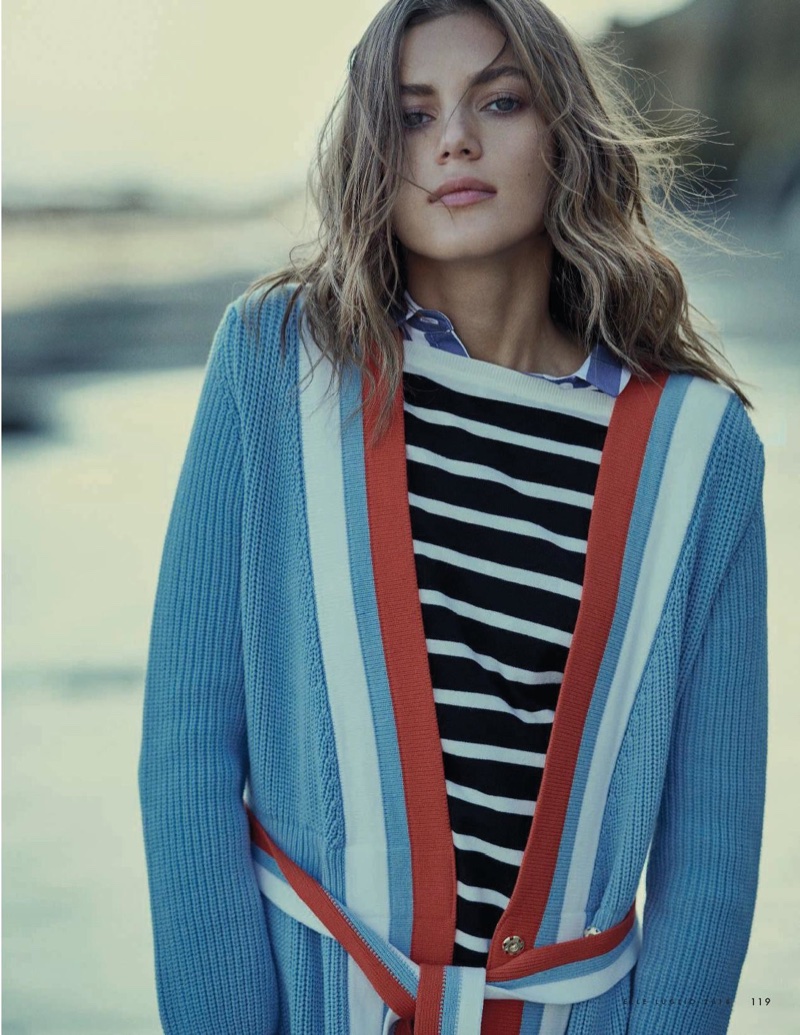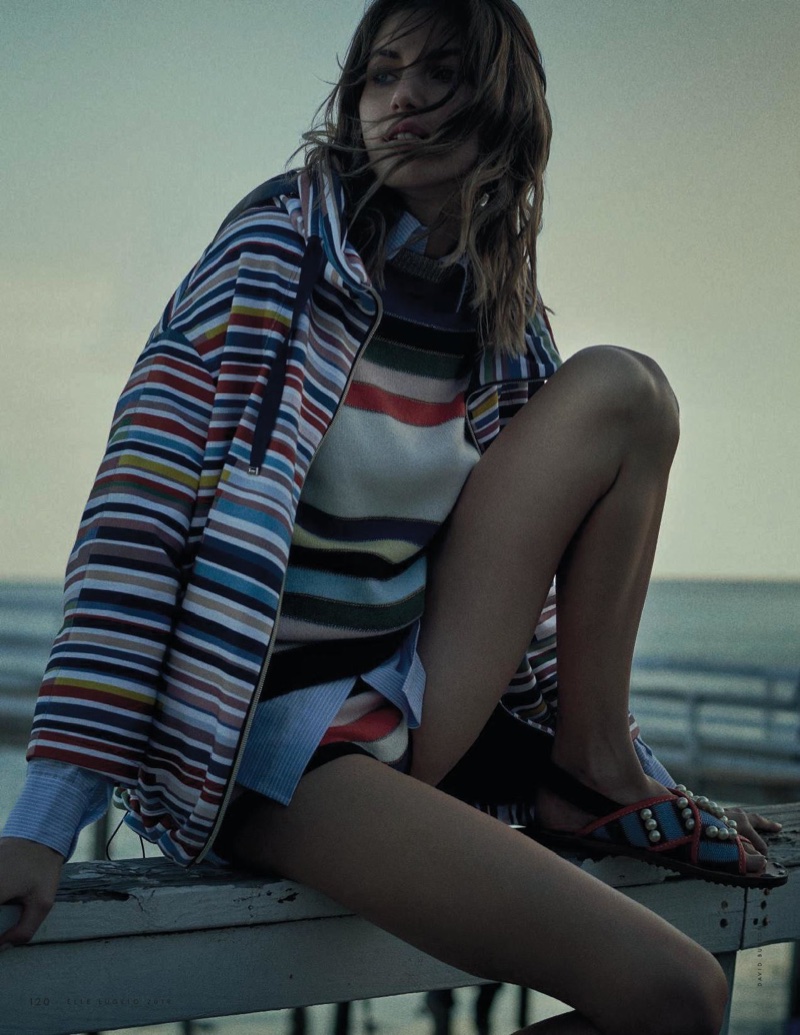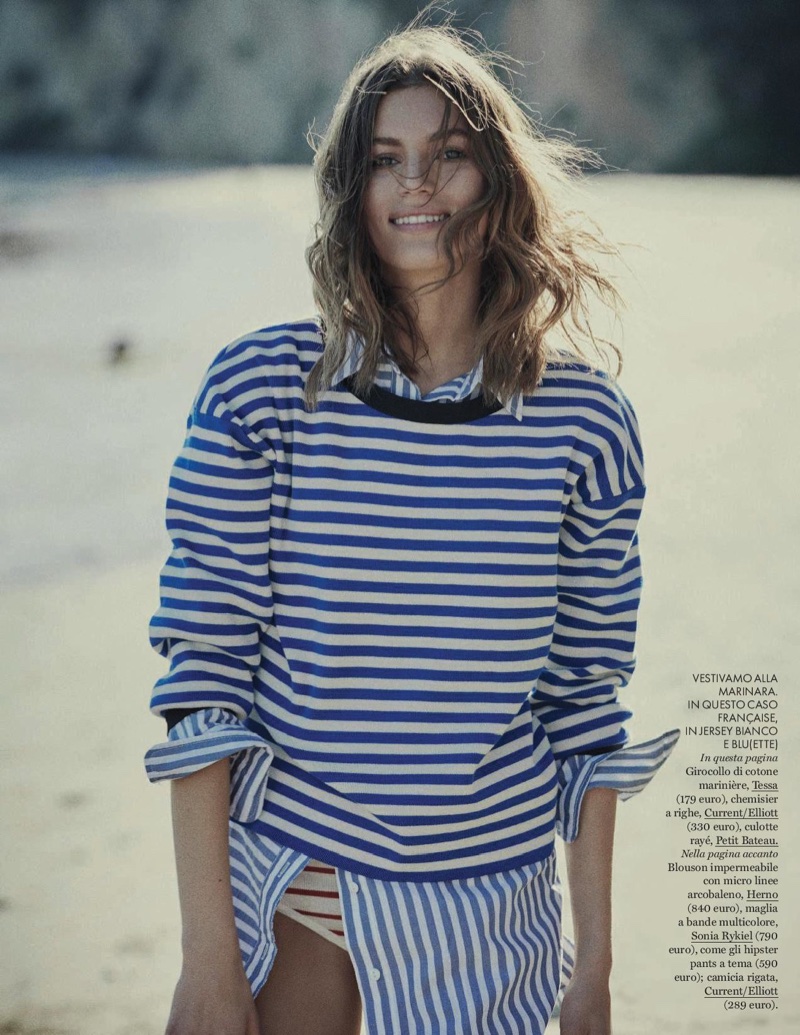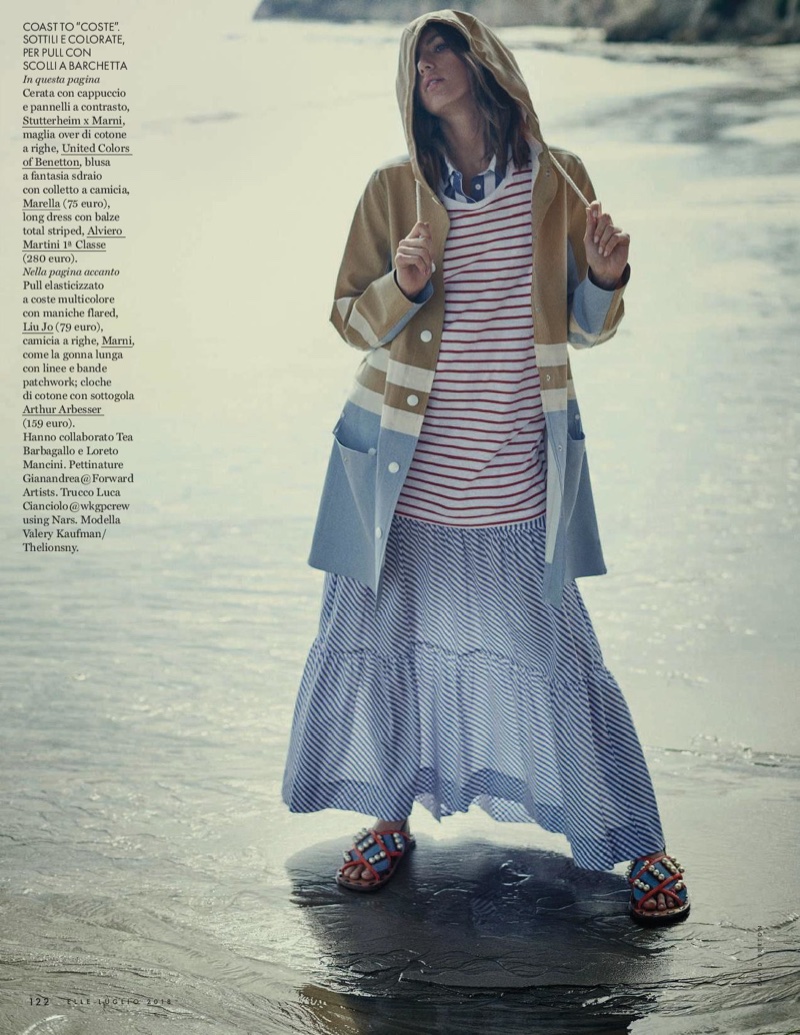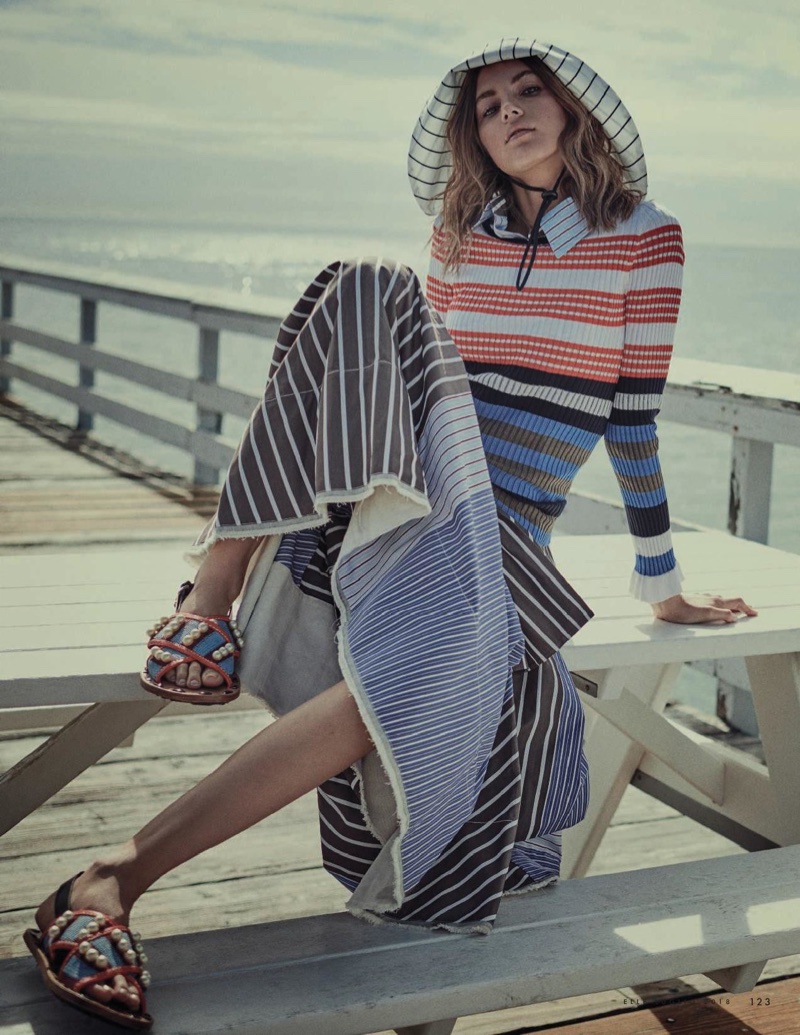 Designer Bags, Wallet, Purse, Belt & Accessories Official Site, Best Price & Quality, Free Worldwide Shipping, Free Returns. Each Bag Is A Work Of Art - Handmade - Cowhide Art - Can Custom-Made

Categories

New Posts

Hot Posts